| | |
| --- | --- |
| | Screen Shots for Money Meter v1.00 |
This is the main screen of Money Meter where see an in-your-face window that shows the amount of money that has been wasted. You can resize the window as well as the text to any size you want. Money Meter will also sit in your Windows system tray for quick viewing.

In the configuration of Money Meter you will find all of the options for getting ready to track the amount of money wasted. This includes your salary, hours per week and weeks per year. For management we added an option to save this tracked time to a comma delimited text file for importing into Excel or Access.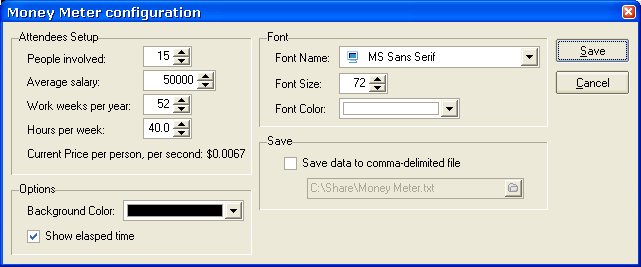 Sometimes you might forget to start tracking your time for a meeting, we added an option called Quick Edit that allows you to manually enter the time wasted and it will calculate the amount of money you have wasted.